Testimonials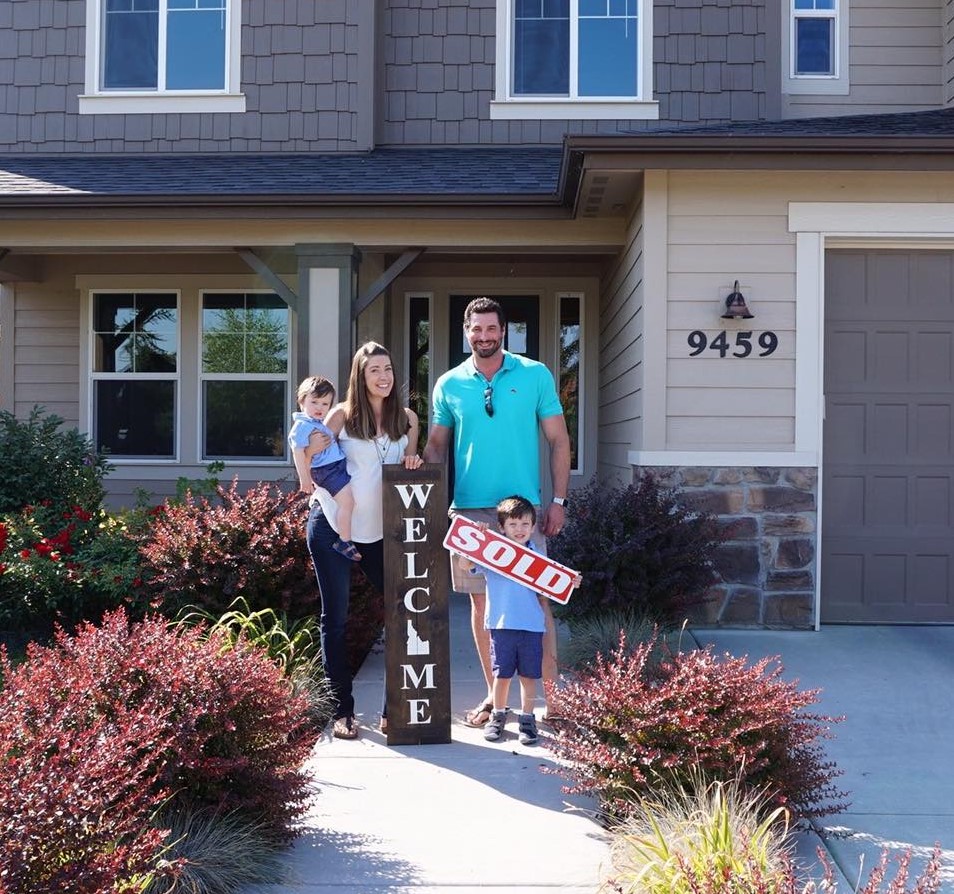 Macayla was excellent at communicating all aspects of the transaction with us, even when it was information she knew we wouldn't like to hear. Our experience with Berkeley has been excellent. Every person on your team has been professional, quick to respond, and enjoyable to work with.
-Jesse & Heidi F.-
Bryce was absolutely awesome helping us find our new home. He went above and beyond and we highly recommend him to anyone looking to buy or sell a home in Idaho. The Callison Group is an amazing group of people to work with. Thanks so much.
-Scott R.-
Tom Jones & Shanna Crane both were diligent, timely, and knowledgeable. They helped us complete our purchase while we were out of town.
-Jim & Rita M.-
Tony went well above and beyond to help my wife and I finally find and purchase a home. We had a few challenges, and a couple of times we had come very close to finishing, only to have another challenge appear. Tony never lost faith and helped us stay on the path until we finally found a home that both of us love. Amazing realtor and a great person to work with!
-Chris & Alysia A –
Austin is hands down the real deal when it comes to real estate. Even with the market in our area going crazy, he helped us find a place that fit us perfectly and we were signing on our cabin in no time. Can't believe we finally have our place! Thank you, Austin.
-Zillow User-
Macayla is extremely knowledgeable and sincere. She treated us like family and always did what was best for us in every situation. Whenever we had a question or concern she responded quickly and honestly. We have bought and sold several homes and this was our best experience by far! Highly recommend!
-Zach & Kim L.-
Dave did an excellent job marketing our property. We were in escrow on day 1 above our asking price. He was instrumental in getting contractors to complete the needed repairs in a timely manner. The closing process was smooth with no issues.
-Colin B.-
This is my third home buying experience with Tony Lewis and Callison Group. I am so pleased with the way I am treated as a client and how attentive Tony is to my concerns, requests, and expectations. I had disclosed that I was looking for a home to purchase as an investment. Through his connections and networking, he found a beautiful home that was just going on the market. This was a wonderful opportunity that could have passed me by if I had not had Tony Lewis and Callison Group working with me. I highly recommend Tony Lewis to anyone looking for a home or property for their investment portfolio.
-Susan A.-
Tom is hands down the best realtor I've ever worked with! He is beyond helpful—incredibly hard-working, knowledgeable, strategic, honest, and an all-around pleasure to do business with. If I ever buy or sell again in the Boise area, I will absolutely go with Tom!
-Geoffrey B.-
Bryce always had our best interest at heart. He was professional and always made sure we were informed. He not only sold our home but he is currently working hard to help us find our future home.
-Shawn & Trina M.-
This was our 8th sales or buying experience with Austin and his amazing team. We will continue to use them every time! They know and understand the market and most importantly how to work with people. We really appreciate all they've done for us.
-Bernt W.-
Tom was very knowledgeable, patient, and very respectful. We had a great experience with something that could be very stressful. Tom definitely spent a lot of time with us to make sure we got the home we wanted. I would recommend him to anyone who is looking for their dream home.
-Curtis C.-
We found Tom Jones on the internet while looking for homes in Idaho. Since most homes were either pending or sold we asked if he knew of any builders of new homes. Tom was able to find a builder and brought us together to get this ball rolling. This started in January and was a long process but he kept us in the loop all the way. Oh, this was all mostly handled online as we were located in Southern California at the time. Today we are the happy owners of a custom home and Tom and his associate Shanna were absolutely great to work with in order to make this happen. We couldn't be happier.
-Richard & Carolina Y.-
Macayla is extremely knowledgeable and sincere. She treated us like family and always did what was best for us in every situation. Whenever we had a question or concern she responded quickly and honestly. We have bought and sold several homes and this was our best experience by far! Highly recommend!
-Zac & Kim L.-
Since we live out of state, Tom acted as our eyes and ears on the property. He connected us with contractors, personally helped with multiple home improvement projects, and was a massive help in general. Every step of the way, Tom went above and beyond. We couldn't have gotten the house ready in time if it weren't for all of his tremendous help.
-Brooke H.-
Tony Lewis worked with us for over a year to find us our perfect home. He explained every step along the way so that we were absolutely comfortable with everything that was going on. I never hesitate to recommend him to anyone and our kids are planning to work with him when they are ready to buy their first homes. The time and attention that he invested with us was absolutely stellar! Tony is someone you can trust with your greatest investment and your future.
-Alysia A.-
Absolutely amazing!! Brandi helped us find our forever property!! Very responsive, personable and always kept us in the loop every step of the way. Very knowledgeable and white glove service!
-Scott M.-
Tom Jones marketed the house properly. Once he posted the listing we had immediate responses.
-Rita M.-
Tom Jones and his team are absolutely wonderful. Tom had our back every single step of the way and went to bat for us when needed to support our best interest. He immediately addressed anything we needed including stopping in to check on our build progress, sending videos, and answering questions. He even was present at our walk-thru and escrow signing.
-Shannon L.-
Tom Jones has been working and searching for acreage for us for the last three years. His communication skills are awesome, would send us listings to check out daily, and always followed through with callbacks. When we were not able to be on-site for the meeting with the Inspector for the soils test, Tom took time to meet her and took a video for us. We bought a great piece of land with his help. Shanna was also a great asset in completing the paperwork!
-Paul & Lori M.-
Home buying isn't supposed to be an emotional decision, but for us it was. We had set our sites on a place in Smith's Ferry to create family memories for years to come and nothing else would do. Over the last few years, we got pretty discouraged thinking it wouldn't actually be a possibility. The market was going crazy here and it seemed like things would be gone in one hour once posted…then in steps Austin and his team. In less than 60 days we were signing and the entire process was orchestrated and executed better than I've ever seen. Communication was flawless. Brandi and Shanna were process ninjas and made the entire thing feel seamless. I've worked with project teams for over 20 years and they've got nothing on this office. Thank you, Austin, Brandi, Shanna, and the team for helping us get our slice of mountain heaven! We cannot wait to build memories here with our little family!
-Jason & Kimberly M.-
Tony was personable and professional throughout the entire process. Tony was always available by phone or text when we had questions and was very helpful with answers. We would highly recommend Tony for your real estate needs.
-John & Cheryl H.-
Moving to a new state and city was terribly nerve-racking for me. Fortunately for me, I was able to have a very competent agent to depend on. Tom Jones is extremely patient and kind as well as so knowledgeable about the real estate business. He put me at ease. I know how fortunate I was to find him and how fortunate you are to have him!
-Carol W.-
[Tony Lewis was] friendly, knowledgeable, professional, responsive and very active in every aspect or request. Every detail was accurately and promptly completed and ready for each and every date as needed.
–Sandy V.-
Tony was amazing. He was available anytime I had questions and worked with us and our crazy schedule to get our house shown and sold within a matter of days! He also helped us find the perfect new home to fit our family's needs and coordinated our closing dates so that we could close on both houses the same day.
-Whitney B.-
Thank you Callison Group; especially Tom Jones for making another real estate experience enjoyable and successful! We enjoyed working with you and will be sure to again in the future if and when the time comes. Tom, your immediate responsive communication and willingness to dive deeper and ask questions to ensure you were meeting our needs was appreciated!
-Jaclyn S.-
I am very glad I chose Callison Group to sell my home. They had a great strategy, knew the market specific to my home, and were very responsive to my questions and concerns throughout the selling process. They also have a great transaction coordinator who was very efficient and helped the process go smoothly.
-Jamie H.-
Tony went out of his way to video places for us since we were from out of town. He set up appointments when we did come into town. He gave us full days of his time, talked to us day or evening if needed and hung in there for six months plus. Even though we lost out on a couple, we finally ended up with the houses we felt comfortable with. Oh, I should mention we were looking for 2 homes! One for us and one for my son and his family. He is even going beyond the sale to help us on a couple items that the sellers refused to take care of. Thank you Tony for all your help, Diane also from the office who help as needed. Thank You!
-Kevin K.-
My husband and I were contemplating making a move out of state for our retirement. I started checking online to areas that we were interested in. I was contacted by our realtor Tom Jones via email about our interests and I told him that we were just dipping our toes in the water, not sure if or when we would make the move. That did not matter, Tom kept in regular contact with us for almost 2 years! Sending us homes that would match what we might be looking for. Well by the time that we decided to fly out and check around, Tom met us at our hotel and spent the day showing us houses that we had picked out online and some that he found that would match our specs. We were frustrated with the homes that we had picked out, as there was always something that just wasn't right. We were just about to head back to square one when Tom suggested one more stop. Well, that was the one. We flew home, made our decision and went ahead. Tom worked with us for the entire process. Always checking in and always available for our many questions. Tom is an excellent Realtor and we will be telling friends, family and anyone who will listen how great he made our experience!
-Tena & Johan V.-
What a fantastic experience, working with Tom Jones at Callison Group Real Estate! When we decided to sell our Eagle home, I told my husband that I didn't want a "weekend realtor". I wanted someone committed to our home with their pulse on the current market. Tom was so receptive to every phone call, text message (even late at night) and in- person visits. He never makes me feel like I'm bothering him with dumb questions. I HIGHLY recommend Tom for any of your real estate buying or selling needs. He's now helping us with the purchase of a smaller build in Kuna. In fact, EVERYONE at Callison was great to work with and immediately responsive to any of our needs!
-Laurie and Steve S.-
Brandi was not only excellently qualified in her field, she was a perfect delight to work with. When we experienced multiple adjustments to closing dates and occupancy, Brandi gracefully, and expertly, "held our hands" through the delays and reschedules. I would certainly recommend Brandi to anyone considering buying and/or selling a home.
-Pam F.-
If you're looking for a Realtor in the Treasure Valley area of Boise, ID, then Tom is your man. He kept us updated every step of the way. And since we were out-of-state buyers, he sent us weekly videos during the build to show us the progress. Not only that...on our move-in day Tom showed up and helped us unload our trailer! Tom is absolutely the best! I thought we were just hiring a realtor...but we ended up making a friend! If you choose Tom Jones for your real estate needs. You won't be disappointed!
-Barry B.-
Tom was the BEST! We were living in Southern California while our house in Nampa was being built, and Tom helped make the whole process easier. He regularly went out to the site to take videos to send to us, which turned out to be crucial in getting things right. He always went out of his way to help us at every step, and is just the nicest guy to boot. We enthusiastically recommend him to anyone buying or selling a home! :)
-Rebecca G. & Rob T.-
Bryce goes out of his way to make finding you a home and helping with the transactions feel like his top priority. He showed us multiple homes that met our criteria and needs and never made us feel rushed with our questions.
-Roy & Deanna B.-
Thank you to all of you involved with the sale of our house in Boise. We can't thank you enough for such a quick and painless process. We will be recommending you to everyone we come across.
-Frank & Margie S.-
Bryce Moss went over and beyond to help us with understanding the process. Excellent service and communication!
-Kevin & Cynthia R.-
A Realtor who cares no matter the size of the deal. We've used Austin and his amazing team for multiple transactions in the past year. From complicated 1031 exchanges to cash deals and everything in between he and his team are just wonderful. So many amateurs in today's real estate market, and having a real professional is so important. Austin has delivered deals that others could not have. We owe so much to him.
-Ashlee M.-
Tony Lewis is the best Realtor I have ever had the pleasure of working with. This is the third time I have contacted Tony for my real estate needs. Tony is absolutely amazing and I would highly recommend him to anyone looking for a realtor to either buy, sell, or both. He continues to go the extra mile when representing you. This was a quick sale with multiple offers. He processed through them all and presented the offers in layman's terms so we could get the best deal. He was in contact 7 days a week round the clock keeping us informed. Thank you, Tony. I am forever grateful to you. We will see you in the near future when we are ready to buy.
-Patricia N.-
Anthony came highly recommended as a top-producing agent. I needed an agent that not only knew the local Boise/Treasure Valley market but could also handle the long-distance communications I required from living out of state.
-Susan A.-
No nonsense agent, on top of everything. I would use Tony again without hesitation. He brought buyers that were a fit for my specific property, as it was unique.
-Jennifer W.-
Great to work with and always super responsive. They helped us close a deal that turned out to be a lot more complicated than we were expecting.
-Travis & Kristi C.-
Tom was patient, knowledgeable and fun to work with. He is honest and will go the extra mile to help you get the home that is right for you. Being a buyer from out of state, he videoed properties that I was I interested in and then sent them to me to review.
-Anita E.-
The Callison Group was so patient with us and did everything in their power to find us exactly what we were looking for! In addition, I feel like they went above and beyond showing us houses without much notice. In this market, you have to be fast and I so appreciate their willingness to drop everything to help us find a house!
-John H. & Jessica D.-
We have sold many homes over our lifetime and dealt with many agents, but we could not have asked for a nicer, more helpful, and more responsive agent than Macayla. We live in a different state and were relying on Macayla for most everything in purchasing this home. She went out of her way (at all hours of the day), to assist us. We bought our house sight unseen and relied heavily on Macayla as we asked numerous questions. She was patient, researched what she didn't know answers to, and never made us feel bad about all of our questions. She may be young, but she's got such a positive attitude and is pro-active in helping her clients, and we couldn't be more appreciative of having such a professional and kind agent.
-Karen H.-
One of the best people in the people business! The reason Austin stands out above all the other agents is because he answers his phone when you call! We never got voice mail. Excellent service! And the best part was we got 50k over asking price!
-Fauniteni & Karen K. -
Tom Jones and his team made our move to Idaho from California the easiest transaction ever. Being so far away, we weren't quite sure how the buying process would go, but we closed on time and without any issues! This was the smoothest transaction ever, even with COVID and living out of state!
-Dan & Sharon M.-
I asked more of Tony than one would normally ask of a Realtor. I'm living on the East Coast and needed to find a suitable home for my retirement. I tasked Tony to scour the inventory for a new build that met my specific wants and needs. He found me the perfect home. Tony made my buying experience stress-free and seamless. He also connected me with a fantastic local mortgage lender and I got a great interest rate. I consider myself a person with high expectations for customer service. Tony Lewis met and exceeded my expectations. He stayed in close contact and responded immediately when I had any questions or concerns. He not only created personal YouTube videos of properties for my review but also used his drone to capture unique ariel images of those properties. What a fantastic experience!
-Susan A.-
Very polite and professional. Austin helped us with everything needed from start to finish with purchasing our new home. Easy to contact through both email and phone calls/texts.
-Tanner & Ashley Z.-
I was really impressed by Tony's diligence and helpfulness in helping us find a farm property in ID. He was knowledgeable about irrigation rights and helped me work through a tricky easement situation. He was very personable and had great communication skills.
-David & Sarah R.-
We built a new home from out of state - our realtor, Tom Jones, from the Callison Group, gave us more than piece of mind. He gave us confidence that we were getting exactly what we wanted. He went above and beyond sending pictures and videos throughout the process. He was invaluable during the mortgage loan process, Tom has a background in that area, but was extremely helpful during the walk-through as well. He caught things we would not have seen and some we didn't know could be changed. We were also in touch with Austin, the owner of the Callison Group, a few times - he could not have been more friendly and he knew what he was doing when he connected us with Tom. We got helpful emails from Callison Group, including ones with information on places in and around Boise to explore. They provided helpful checklists and contact Information for everything we might need to ease our move. I could not recommend them more.
-Carrie D.-
Great company to work with! They stay on top of each file. I've bought 6 homes with Tom Jones and he has been great to work with and Diane keeps us both on track.
-Beverly S.–
Tony Lewis immediately responded to all questions and concerns. He is super knowledgeable and friendly and great to work with during the home-buying experience. Hire about ten more agents like Tony.
-Mike B.–
We built a new home from out of state and our realtor, Tom Jones from the Callison Group, gave us more than peace of mind. He gave us confidence that we were getting exactly what we wanted and he went above and beyond sending pictures and videos throughout the process. In addition, everyone we talked to and worked with from the Callison Group was so friendly, helpful, and knowledgeable. We received regular emails, including ones with information on places in and around Boise to explore, and they provided checklists and contact information for everything we might need to ease our move. I could not recommend Tom Jones and the Callison Group more.
-Alison F.–
The Callison Group did a fantastic job of keeping me informed at every stage of the transaction.
-Mark M.-
The Callison Group was professional and great to work with. It took us 3 years to find a property because of the limited availability, but Tom was patient and accommodating. They also made a great effort to find ways to negotiate a difficult contract with the seller. Well done!
-James & Laure M.-
Tony and his team seemed to work fluidly through each process of my home sale. Whenever there was a hiccup, a simple quick call to them and whatever problem had arisen was quickly and easily corrected.
-Steve & Lori C.-
I have used Tom Jones both on the purchase and sell side of homes and he, by far is the best agent I have ever dealt with. Tom's energy and get-it-done mindset set him apart from any other agent I have worked with. Tom's sense of urgency for his clients is unmatched. I would recommend Tom Jones to anyone looking for a stress-free environment when purchasing or selling a home.
-James K.-
When we first started looking for our home, we were clear about what we wanted. Tom was great about showing us houses in our conservative price range. We ended up waiting over 6 months to clear up some credit items, through the entire time, Tom checked in with us personally via phone each month. And once we were ready so was he. He helped us through the prospect of building a home and in the middle of everything we found our place. Tom was super informative and guided us through everything. Every time anyone we know mentions they are looking we always give Tom's name and rave about how awesome he is. To this day Tom still checks in with us to make sure everything is going well with us and our home. Thank you for being such an awesome human Tom. If we ever go looking to sell or buy again, you will be the one we call.
-Wade & April D.-
Austin and all of his staff are so great to work with. Austin came out and took hours with us going over process and marketing. Then he gave us time to decide what we wanted to do. No high pressure ever but a lot of care and concern for our wants and needs to get the outcome we needed to move forward with our dreams and goals. If we ever got discouraged he was there to cheer us up and encourage us. I had a great dinner with him and his sweet wife and had a great time getting to know her and about their family. Great Christian values and ethics. So thankful for all.
-Chip & Kay D.-
I listed my Wilder property with Austin. Within hours of posting, there were multiple offers and it was sold that week. The listing photos and promotion Austin did were terrific. He and his team were in touch from start to finish and mostly by phone which is unusual these days. Outstanding and personal service. Thank you, Austin!
-Teresa K.-
From the very beginning, Tony had our back. He earned our trust with his honesty and integrity. We would and have recommended him to family, friends, and complete strangers.
-Laberta T.-
Austin is a very professional agent. I have bought and sold other real estate properties but have never bought anything the size and acreage of this magnitude. Being a rookie in this area, Austin helped me through the complete process and I was so thankful for his help in this transaction.
-Maureen H.-
Being First-Time Home Buyers, we were nervous about the process. We had tried before, and it didn't work out the way we had hoped it would. It took several years (actually over 10) of tight belts and getting some things taken care of, but we decided to try again. And along came Tom Jones, with a winning smile, and something else: hope. You see Tom is NOT a high-pressure salesman by any stretch of the imagination. In fact, to his clients, he's the exact opposite. He looks at where they are, where they want to be, and where they actually fit the best. Tom showed us a couple of places, and we wound up with the place we're in now. He made sure we had a proper inspection done on the house and walked us through the results. We've been here ever since. We trust Tom. IF we are ever on the market for a new home, he's our first call.
-Andrew & Marcy M .-
Anthony (Tony) helped us find the perfect home with very few home visits. He listened to what we wanted in a home and guided us in that direction. He knows the market and obviously is well thought of in the community. He has provided excellent references to conduct some projects we want to finish prior to moving, which has allowed us to find the right people for the jobs. He is responsive, professional, easy to work with, and has gone the extra 100 miles throughout the process of purchasing a home out of state. Throughout the preliminary requirements (home inspections, repairs, reviews of documents) he kept everything on track and provided a solid base which alleviated a lot of stress. I rate him a 5-star agent and would recommend him to everyone in the Treasure Valley area. I consider him a trusted and new friend as well.
-Dwaine & Judy O.-
Tom served us well as a buyer's agent. He provides great service and communication. He is patient and not high pressure on the client. I enjoyed working with Tom and will do so again.
-Galen & Miyoung S.-
Austin and his group did an awesome job from start to finish on the sale of my home. The Callison Group was professional from day one. Listened to all my concerns and acted very professionally.
-George P.-
We were from out of state and Tom picked us up every day at our motel and drove us to every home we wanted to see and some he picked for us. We wound up choosing a home he thought we would like, I love my home and living in Idaho. Tom made the whole experience easy and fun, couldn't have asked for a better Realtor.
-Dustin & Starlyn M.-
We are writing a letter of recommendation for Tom Jones as a Realtor. We had an opportunity to meet Tom during our recent search for a home in the Boise Idaho area. There are no words that we could use to describe the level of information and support that he provided to us during this process. The experience was very invaluable. Without a doubt, we confidently would recommend him to assist others in their home search.
-Mark & Jan P.-
I was moving from out of state, making my first home purchase ever, and was completely overwhelmed. I was referred to Tom, who has the key components of an exceptional real estate agent and also truly wanted to make sure I was happy with the house, that I would call home. Five years later and still sometimes in awe of how perfect my home fits my life and needs. Tom Jones is the real deal in real estate.
-Caitlin V.-
Austin and the whole Callison Group were friendly, efficient and professional. We live a long way from where the property was purchased, and Austin went out of his way to provide us with all the information needed to complete the purchase. He worked well with our son to provide a comprehensive tour of the land and answer all our questions. I would not hesitate to use the Callison group again for any real estate needs we will have in the future.
-Michael & Bronny B.-
This is our 5th real estate transaction with Austin and his team (3 sales and 2 purchases). The entire team has helped with smooth experiences. Communication is so important, and they all understand how to interact and help their customers. They are all so personable and down to earth. They never seem stressed out and are always professional and kind. Thanks again for all your help and hard work.
-Bernt W. -
Tom was very patient working with me as he knew it was going to be a long process due to me living out of Idaho. He kept in touch and kept me informed. When the time was right for me to buy a new home he provided plenty of listings of homes that I might be interested in including the one we bought. I'm completely happy with my new home and living in Boise, Idaho.
-Scott S.-
Tom was a wonderful Realtor to work with. He was knowledgeable and did not push us into anything we did not want. He helped us even when we changed our minds numerous times regarding what we were looking for in a property. He helped us find and buy our home and we couldn't be happier. Thank you, Tom!
-Jon L.-
When we sold our house, we had a very short window of time to find and purchase a home. Tom was right there with us to take us on our house-hunting tour. Tom was very knowledgeable of the Ada County area which helped to save time during our search. In only 3 days of searching, he was able to help us find and purchase our house which was very difficult since it had to house aging parents. We were extremely satisfied with his service.
-John & Debbie W.-
In 2016 we were considering relocating to Idaho. Tom Jones reached out to us as he would love to show us around the Treasure Valley Area (a good 40-mile radius) For a good 6 months Tom would email us weekly with homes with our interest, we took a trip one week to tour a dozen homes met up with Tom. He not only showed up homes, but he also took the time to show us the highlights of the area, the lake, parks, river, and best pizza places. After another 15mos of weekly emails, we came back to meet Tom again in a different season and toured another dozen homes. We bought it in the winter of 2017! Since then, we have referred Tom to two other family members and currently in the of Fall 2019 to a friend. Tom enjoys his job, he knows the Boise to Caldwell area, and he is not "pushy." If he thought a house needed work, was overpriced or was not in the best of areas he was honest and straightforward with us. We consider Tom Jones a friend now, and we highly recommended him.
-Mike & Heather S.-
The Callison Group exceeded our expectations for a real estate firm in all aspects. This company functioned like a well-oiled machine in its ability to work together towards solving the many and various issues that did and will arise during any real estate purchase. Since real estate purchase protocol varies from state to state, the Callison Group's state-specific knowledge was extremely helpful for us. Following our offer, we were referred to the coordinator, Diane Hickox, that was available to answer all of the many questions that began to flow following our offer. She was very quick to respond to any and all of questions regardless of how quirky they may have been. Again, working as a team enabled this group to provide superior customer service.
The conglomerate of professional connections, some of which we had the pleasure to work with, was also quite impressive. Since this process requires so many actions within a short period of time, a lack of reliable professional connections could present a problem. We had a great experience with all of the referrals from the Callison Group.
We had to rely heavily on our Agent's negotiating ability several times throughout the process. Since the entire pending process represents a period of nothing but negotiations, these qualities are very important to the outcome. Due to Austin's sharp skills, we were able to purchase our home for a substantial amount under the asking price.
We have bought and sold property in the past and this was by and far the best experience that we have ever had with a real estate company. For the purchase or sale of residential or commercial real estate and without a doubt, I would highly recommend The Callison Group!
-Karen H.-
Tom Jones is the most awesome person that you will ever deal with. He is very professional and willing to go the extra mile. Out of a ranking from 1 to 10, Tom is a 12! You will love this guy.
-David D.-
In searching for a property in the Boise area while I lived out of state I had problems with a few other agents. Tom was the exception. He answered and returned calls quickly and if he didn't have the answers, did the legwork required to get them. I was impressed by his knowledge and patience with my search. I would definitely recommend Tom and will be using him in any future real estate business.
-Mike A.-
Our experience with the Callison Group, Tony Lewis specifically, was exemplary. We are moving from out of state, and their personalized assistance, references, analysis, and transparency not only helped with the purchasing decision but made the entire process pleasant and very efficient. I cannot thank them enough for their guidance. Their knowledge of the market and the fact that they listened to our needs helped us find the perfect new home for us.
-Judy O.-
Tony made this process so smooth. He was so kind and supportive. He was very easy to talk to and always had an answer or made sure to get one. Communication was excellent and it was a pleasure to work with the whole group. Thank you!
-Sherri P. -
We felt comfortable with Austin when we first met him because he listened to our concerns. His knowledge of the area and his expertise is second to none. Working with his team was a pleasure. You can tell that they care and want you to feel at ease in the process which can be stressful. We highly recommend Callison Group for selling or buying.
-Steve & Deb B.–
We were looking for a house from outside the state, and Anthony did a terrific job for us. He was always direct and straightforward, had good advice about neighborhoods, was willing to go the extra mile in finding added comps and giving us info on unfamiliar areas, and he did a great job in negotiating with sellers. All around, a terrific agent to work with.
-Lori F.-
I have sold several pieces of real estate using the Callison Group. Tom and Austin are both very knowledgeable and great to work with. I highly recommend them to anyone looking to buy or sell real estate in the Treasure Valley.
-Jeremy P.-
Austin and his team handled a complicated bare land transaction smoothly and professionally. They never left us waiting or wondering, even on the day before the closing when a title problem emerged. Thanks to their work with the title company, it was cleared up and we closed on time.
-ABD, LLC-
Austin and his team were just outstanding throughout a sometimes-difficult transaction. Aside from the extensive knowledge and experience in real estate, the interpersonal skills of the team were critical in making the deal. I wouldn't hesitate to use them again.
-Bob B.-
Austin and his staff were great! They communicated with us regularly and treated us like we were family! I'd definitely call Austin again when I have land to sell!
-Mikal S.-
Highly recommend Tom. He showed me multiple homes with my criteria to help me with my lender. He kept me informed all the way through the process. He helped me with local information and was always able to stay in touch.
-Rudy M.-
I cannot say enough about Dave Kangas and his team! He handled every detail of the sale of my home with precision and excellence. He was a timely communicator and went way above the services of a typical real estate agent in what he provided to ensure the sale of my home went smoothly. As an out-of-town seller, my worries were put at ease by Dave taking care of even the smallest detail. I cannot say enough to express my deep gratitude! It could have been a long-distance nightmare and instead was a seamless dream.
-Jennifer M.-
Tony and his team seemed to work fluidly through each process of my home sale. Whenever there was a hiccup, a simple quick call to them and whatever problem had arisen was quickly and easily corrected.
-Steve C.-
Tony Lewis is a rock star in the real estate market. He did an amazing job helping us find our home in Idaho. We had two weeks to look for a house, and he helped us utilize that time perfectly. With his advice and experience, we were able to make a decision based on many factors such as location (most importantly), price, and estate requirements.
Tony's become one of our best friends because of his genuinely good nature and blunt honesty. I would (and do) recommend Tony to anyone I meet that's looking to make a real estate-related move.
-Yuriy & Taryn Y.-
Dave Kangas was the most amazing agent! He started emailing me homes 3 years ago and patiently waited until I decided to finally move to Idaho a year ago in July. He knew exactly what I was looking for and spent an entire weekend with me showing me the homes that best suited my needs. I decided to have L2 Construction build a home, and it took them until this July to complete it. Dave patiently and knowledgeably answered all my concerns during the process, and after I moved in, even took an entire day to help me hang pictures, move furniture, and assist me with other projects. He is an AMAZING Realtor!
-Linda S.-
My real estate transaction was handled business-like. Austin kept me posted on what was going on and when he had a potential buyer.
-Janette S.-
Austin, Diane, and Brandi were amazing. My wife and I typically represent ourselves, due to having been burned with fees and lack of openness in the past. When we brought this up, there was never any question, they helped us out. I am particular with my transactions and requirements, and they were nothing but open to this. I would openly recommend them and will use them in the future. Frankly shocked by their honesty and work to make the process smooth and informed. I wish all real estate groups were this way. If you are looking for a group that treats you like you matter, go with them.
-Todd S.-
Within 2 years, our family has used Tom Jones of the Callison Group twice. We were looking for a home online and asked for a Realtor that knew the area. Tom knew the area we were moving from also, so it was a good fit. 4 years ago, when we started our search, Tom gave us no pressure to rush to buy. He loved his job showing "newbies" the area. Tom was fun, knowledgeable, and patient when he helped look for a place for our mother to purchase.
-Mike & Heather S.-
Over the years I have bought and sold many homes, but I have never encountered such an amazing real estate agent as Austin. He is so knowledgeable, friendly, and went the extra mile for us while we were looking for our new home in Idaho. I will never use anyone else except Austin and his team for any real estate needs we have in the future. Thank you, Austin, you are the best!
-Mark N.-
We are so pleased that we listed our "less than cookie-cutter" property with the Callison Group. An acreage property like ours presents unique challenges. You seldom find a person, much less an assembly of them, that makes you feel comfortable that all the loose ends and glitches will be dealt with well and promptly. With the support and positive outlook of this team we not only got through to closing smoothly, but we also had an enjoyable experience. This group is a pleasure to work with and we will miss our friends at the Callison Group!
-Steve & Pam C.-
This was the best real estate experience I have ever had in every aspect and throughout the process.
-Anonymous-
Good business.
-Jason C.-
Fantastic company! I'd especially like to recognize Macayla for her outstanding professionalism, knowledge, and assistance. Keep up the great work!
-Victoria H.-
I was browsing real estate in the area and chatted with Cayla about some options. Super helpful and friendly. I will be returning!
-Dean E.-
Macayla Callison is such an amazing person!! Truly the best.
-Noah G.-
Macayla was an absolute boss! Even though I'm still on my house hunt journey, she answers any questions I have - big or small - with so much enthusiasm and passion in her voice.
-Henry H.-
Macayla Callison is the best seller!!
-Brandon C.-
Macayla is the best! Buying and finding a house at the top of the market was not an easy task. She was thorough, professional, and detail-oriented. Macayla not only helped me find the perfect home for my family but was extremely helpful in finding the best-priced house for our budget in a quiet, friendly neighborhood. My family now is in the house of our dreams and I can't thank Macayla enough for her help. I highly recommend choosing Macayla as your Realtor!!
-Conner W.-
Macayla Callison was very professional and kind!
-Hallee O.-
Cayla is very professional and knows what she's doing!
-Josie B.-
We met Macayla back in December. She was kind enough to sit down with us and genuinely listen to us and our goals. She's superb at follow-up. When this lady says she's going to do something she ain't playing. The authenticity and ability to communicate effectively that she exudes in her daily life.....is par none, to say the least.
-Nathan L.-
Macayla has been super helpful in answering the massive amount of questions I've had about buying my first home! She's incredibly knowledgeable and friendly and has helped me understand a lot about first-time homeownership.
-Meghan M.-
House hunting in this market is beyond stressful and we couldn't have found a more confident, knowledgeable, calm, and friendly agent than Brandi. Brandi knows the realty business from start to finish and we were indeed fortunate to have her expertise in finding us the house we love.
-Larry W.-
I am so impressed with the Callison Group and especially Tom Jones, the Realtor I used to purchase my first home in the Boise area. It was an intimidating experience and Tom made everything go smoothly (and calmly) and Shanna was so helpful in providing support for the transition as a first-time buyer. Couldn't recommend them enough!
-Heather S.-
We're from Emmett and have been considering making the move to the Treasure Valley. Macayla has been phenomenal with answering questions and showing us what is available. Great team you've got there!
-Emily E.-
The Callison Group is hands down the BEST!! Bryce worked so hard and found us exactly what we wanted. Shanna and Bryce were so helpful in the closing process. They helped keep our lender informed and on track. Can't say enough about how awesome these guys are!!
-Jeremy & Kimmi O.-
Amazing experience from the whole Callison team. Austin and everyone involved made the entire process very easy for me and always represented my interests!!
-Matt P.-
Austin and his staff are consummate professionals. They're extremely friendly and pleasant to deal with. Extremely informative and responsive throughout the entire transaction. I would highly recommend them for a no-nonsense and pleasant experience.
-Tom B.-
It has been a pleasure to work with the Callison Group. They have always kept me informed and every contact was personal and professional. Highly recommended.
-Terri B.-
Austin and his team are top shelf!
-Adam H.-
Austin and his team helped us find our dream property in Eagle. Austin specializes in acreage properties but they helped many of my family members and friends find homes in residential neighborhoods as well. We have looked at homes with Tom and Macayla as well. They are both great.
-Sara T.-
Excellent group of Realtors. We had the pleasure of working with Austin Callison going on 9 years ago. We were in California, and Austin handled the Idaho build job for us. We continue to be friends and we have referred many to him and his business.
-Lani W.-
Very happy to have worked with Tony! He's a consummate professional and we worked very well together achieving a successful transaction for our clients. Until the next one...CHEERS!
-Dan K.-
Everyone at Callison Group went above and beyond in helping us get answers to all of our questions and to make the selling and buying process as smooth as possible. Tony Lewis did an outstanding job as our Realtor!!
-Brandi M.-
I can't say enough to express the satisfaction that we had working with Tony Lewis during the selling of our property! This was our third buy/sell transaction working with him and the performance never changes from anything but OUTSTANDING!! Tony has the ability to listen to and communicate like few I've ever worked with. I always felt that my needs, wants, fears, and concerns were heard, respected, and fought for. He is warm, so easy to relate to, and shares such depth of wisdom and brilliance in his planning and approach. This is why we've trusted him with our most precious investments over and over. You're truly blessed to have him on your team!!!
-Alexi L.-
I cannot thank Tony enough for the level of customer service he provided to my husband and I when we purchased our home. The commitment and attention to our needs and wants was top-notch.
-Laberta J.-
We have been using Tony Lewis as our Realtor for over 6 years now. From the 1st time we listed with him he has been top-notch. He's always out pounding the pavement to find buyers when we sell and also homes that met our criteria when we buy. He keeps us informed every step of the way. He's an amazing realtor. If you have any property to sell or are looking to buy he's your guy. We can't thank him enough for all he's done for us!
-Oscar R.-
Austin is a real professional and easy to work with. Have used Austin before and would highly recommend him.
-Dan & Bunny D.-
I can't say enough good things about Tony Lewis. Knowing him for nearly 30 years, he has been someone that I have come to trust and depend on in so many ways. He is one of those genuine humans that is consistent, driven, and dedicated to the work he does and the clients he serves. I won't consider using anyone else to hold my hand and walk through this housing market with me.
-Marty B.-
Callison Group Real Estate was very professional and always on time for submitting information and communicating with both parties on the sale of our property. I've been using them for several years on some sales in the past and would definitely recommend, pass on their business to the public, friends, and family. Austin Callison has been very positive and prompt with services / research either online or in person at the office. I would like to add that the sale of purchases of properties in the past has been on schedule, no push and all information was displayed for my final decision to make any and all limitation, or provisions as needed upon signing. Thanks again for your business and appreciate your help.
-Chuck D.-
Tony Lewis is all the Realtor you will ever need. Highly qualified and experienced, he makes working with him a stress-free experience. He doesn't waste your time and gives you a feeling of confidence and trust. Highly recommend.
-Jim L.-
Tom and Shanna were a pleasure to work with. Their professionalism and experience helped us navigate many of the pitfalls of the home-buying process and got us into the house we wanted.
-Ryan N.-
Tony Lewis is the most patient and kind person we have ever worked with! We appreciate his knowledge and willingness to indulge our many open houses!
-Marika C.-
Tony Lewis has been phenomenal to work with during our search for our new home! He was there every step of the way and so communicative about the process. We couldn't have asked for more, especially given this crazy housing market! It was such a relief to know we had someone to help navigate every step of the way so that we know exactly what to expect when we find our forever home!! I would highly recommend Tony to anyone looking for their dream home!! He is truly an invaluable resource!
-Allison D.-
I had a great experience finding the perfect investment home. Tom was able to find exactly what I was looking for.
-Tiffany F.-
Tom Jones has made this momentous event, of online purchasing of our new home, as simple as a click, click, click. He was our boots on the ground with video updates and was ALWAYS available and continues to be. He is personable and professional and made our move to Idaho seamless.
Thank You, Tom and Callison Group!!!
-Kim W.-
Tony Lewis was our Realtor and he did an absolutely amazing job making time for us and being fully transparent with knowing what we were looking for and keeping our interest as a priority. I would recommend Tony in the Callison Group to anyone local or out of state.
-Bryce D.-
Tom Jones is an exceptional agent. He takes the time to invest in your real estate needs. Tom is professional and extremely thorough. I highly recommend Tom and the Callison Group.
-Erin C.-
Tony Lewis provides outstanding service, and the ability to market and sell unusual properties. Unbelievable follow-through. Well-run team at Callison Group Real Estate. Highly recommend.
-Marg J.-
I was so fortunate to have Tom Jones of Callison Real Estate Group to assist us in finding not just a house but a true home in Idaho. He was a true advocate for us every step of the way. His knowledge of the entire area and his patience will always be appreciated. I highly recommend him. Callison definitely has very high standards.
-Paul S.-
Great service and knowledge on every step of the buying process and even beyond. Highly recommend Tom Jones.
-Rudy M.-
Tom Jones and the Callison Real Estate Group were absolutely incredible to work with for many reasons: they were prepared for home showings on the days we were available, they showed us homes that met our needs and even our wants, they were responsive to our questions in a timely manner, they were friendly, honest, and full of integrity. We highly recommend them and commend their efforts!
-Laurie A.-
We can't say enough about how wonderful Tom Jones is! My parents worked with him to purchase their home in Star back in 2018 and Tom was always sure to follow up periodically and check-in. When my Husband and I finally made the move to the Boise area last year in the height of the crazy real estate market, we without a doubt called Tom. He never missed a beat and was there for us every step of the way -- narrowing down which area we wanted to buy in, navigating a horrible experience with Hubble Homes, and then helping us with our Toll Brothers purchase. The market was stressful but Tom kept us calm and going without worry. My parents are now using him once again to move from Star to Meridian and have another amazing experience already. HIGHLY recommend working with Tom and his team -- you will be in good hands :)
-Shannon L.-
These people are the very best at what they do!
-Merrill O.-
We were floundering trying to find land. Several other Zillow recommended agents were very un-helpful. Was referred to Brandi by a friend and she knocked it out of the park. Great communication, in tune with what we were looking for, willing to do anything and talk at any time so that we can find what we were looking for. Very knowledgeable of areas and was able to find what we wanted at the price we wanted to pay.
-Kristin M.-