Best Hot Springs near Boise, Idaho
Posted by Brandi Washburn on Friday, January 6, 2023 at 3:43 PM
By Brandi Washburn / January 6, 2023
Comment
Looking to take a relaxing and rejuvenating dip? Soak in the natural mineral water and relax in the beautiful Idaho wilderness at one of these top hot springs destinations within a few hours of the city. From family-friendly pools to luxurious spa experiences, these hot springs offer something for everyone.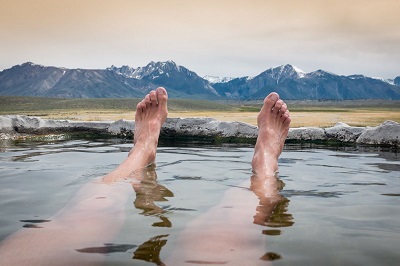 Located in a serene setting within the Payette National Forest, only two hours away from Boise, Burgdorf Hot Springs is the perfect destination for rest and relaxation. Surrounded by majestic mountains, you can enjoy three unique log-built pools with gravel bottoms filled with natural hot spring water up to 118 degrees Fahrenheit. For your convenience, there are also dressing rooms available near each pool.
Nestled in the picturesque foothills of the North Fork Range, Gold Fork Hot Springs is situated in Donnelly – a tranquil town south of McCall. Here you can indulge in the mineral-rich waters and hydrotherapy jets. Added perks of this hot springs destination are the heated changing rooms, free lockers, and geothermally heated sidewalks.
Journey down a staircase to the secret paradise of the undeveloped Kirkham Hot Springs. The setting is truly relaxing with the natural hot springs, cascading waterfalls, and tranquil pools. Nestled on the South Fork of the Payette River with camping options nearby, this is your chance to also explore the 35-mile Kirkham Ridge Trail.
Escape to Miracle Hot Springs and experience the ultimate relaxation in its naturally heated waters. Located in the picturesque southern Idaho desert, here you can enjoy a selection of private hot pools or outdoor hot pools. In addition, you can enjoy a cozy outdoor fire site and picnic area, geo-domes for camping with family or friends, and couples massages.
Relax and refresh yourself in the luxurious waters of Mundo Hot Springs, just three miles north of Cambridge, Idaho. Its onsite poolhouse or cabin offers you a private haven for soaking after hours. If you prefer something more rustic, they also have tent and RV sites as well as hostel-style lodging available.
Roystone Hot Springs RV & Event Center is a hidden gem situated in the gorgeous Sweet Valley. You can take an invigorating plunge into the natural hot springs pool, or indulge yourself with a nice soak in their spacious jetted hot tub. They offer an outdoor recreation area as well as a secluded private party room for special events and family reunion celebrations. Additionally, they provide tent camping and extended-stay parking spots for RVs so you can make the most of your visit.
Silver Creek Plunge is a campground with a geothermal swimming pool located in Garden Valley, within the Boise National Forest. Conveniently just 2 hours from Boise, it sits on 13 acres of forested land with Silver Creek running through the center of the campground. Besides soaking in its geothermal waters guest can enjoy fishing, hiking, and stargazing.
Escape the hustle and bustle of life with a luxurious retreat to The Springs, nestled away in Idaho City less than 1 hour northeast of Boise. This spa-like facility is perfect for unwinding after an eventful day. Reservations are required so be sure to plan in advance. If you would like something more intimate they do have private pools available for adults 18 years or older.
Trinity Hot Springs is a rustic resort located in Idaho's Sawtooth National Forest, known for its pure mineral water. The resort offers overnight lodging, as well as yoga classes, meditation instruction, and various spa packages. It is situated along Grouse Creek and adjacent to the South Fork of the Boise River and offers lodging, day use, and camping options. The resort features a large open-air pool with a gravel bottom and is located just two hours from Boise.
Whether you are looking for a day trip, weekend getaway, family-friendly outing, or a spa experience; the natural mineral waters at each of these Idaho destinations are sure to soothe and rejuvenate. So why wait? Pack your swimsuit and head to one of these amazing hot springs near Boise for a memorable experience.