Guide to Treasure Valley's Farmers Markets
Posted by Brandi Washburn on Wednesday, March 15, 2023 at 3:21:37 PM
By Brandi Washburn / March 15, 2023
Comment
Wondering where to find the best farmer's markets in the Boise area? Here is a helpful guide to some local Treasure Valley Farmers Markets that would be worth checking out the next time you are looking for locally grown produce, organic meats, specialty foods, or unique gifts made by Treasure Valley artists.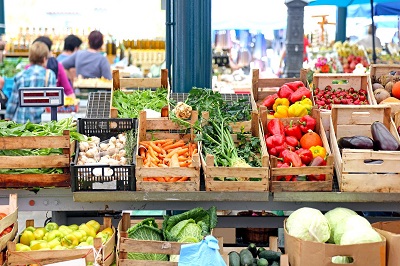 Boise, Idaho Farmers Markets
Open Saturdays 9:30 a.m. To 1:30 p.m. from the middle of April through the middle of December. Located in downtown Boise in the Grove Plaza. At its peak, the Capital City Public Market is bustling with over 150 vendors offering an array of products from fresh produce to custom art pieces.
Open Saturdays 9:00 a.m. to 1:00 p.m. from April through October. At the Boise Farmers Market, you will have no shortage of options to choose from! The vendors offer homegrown fruits and vegetables, locally raised protein, baked goods, honey, jams and sauces. The walk-through market is located at 1500 Shoreline Dr, Boise, Idaho. Additionally, this market also offers a convenient delivery service to some of the Boise area neighborhoods!
Open daily 9:00 a.m. to 7:00 p.m. Peruse a vibrant open-air produce market featuring the freshest and most flavorful seasonal, local fruits and vegetables! The market is located at 1525 S Cloverdale Rd, Boise, Idaho.
Caldwell, Idaho Farmers Markets
Open every Tuesday 5:00 p.m to 9:00 p.m. from May through September. This market is held in conjunction with 'Tuesdays on the Creek' at the Indian Creek Plaza in downtown Caldwell. so you can enjoy some upbeat music and a refreshing drink while you browse through all of your favorite produce and products.
Eagle, Idaho Farmers Markets
Open 9:00 a.m. to 2:00 p.m. from the beginning of May through the beginning of October. Visit this bustling market on Saturdays at Heritage Park in Eagle, Idaho. Amongst the vendors, you'll find locally grown fruits and vegetables, pastries, jewelry, crafts, and other unique handmade novelties.
Meridian, Idaho Farmers Markets
Open 9:00 a.m. to 1:00 p.m. from mid-April through mid-October. The Meridian Main Street Market stands out from other traditional farmer's markets by providing our local youth with opportunities to thrive. Visitors to the market can also support small businesses, farms, and entrepreneurs in the area while gaining access to healthy, organic foods! You can visit the market at 33 East Broadway Avenue, Meridian, Idaho 83642.
Nampa, Idaho Farmers Markets
Open every Saturday 9:00 a.m. to 1:00 p.m. from April to October. Each week, up to 75 vendors come together in Lloyd Square Park in Historic Downtown Nampa for the Nampa Farmers Market. Here you can find a wide selection of freshly grown produce, foods, crafts, plants, and art all from local merchants!
---
The Treasure Valley in Boise is home to some of the best farmers' markets in Idaho. Attending your local farmers' markets is a great way to support the local economy and enjoy a unique, enriching experience. Not only can you find fresh produce, organic meats, and artisan foods, but you can also discover unique gifts created by Treasure Valley artists.