Home Improvements That Will Bring You the Highest Return
Posted by Brandi Washburn on Wednesday, June 1, 2022 at 11:48 AM
By Brandi Washburn / June 1, 2022
Comment
Home Improvements That Will Bring You the Highest Return
Now is a great time to make some home improvements if you're planning on selling your house or putting it on the rental market. Even if you're not looking to sell anytime soon, making some key improvements can increase your home's value and make it more appealing to potential buyers down the road. Here are a few home improvement projects that will give you the biggest return on your investment.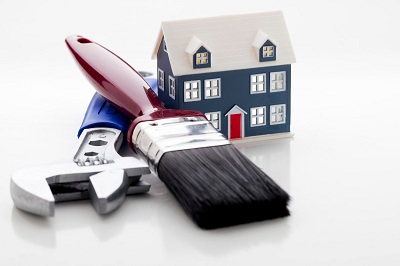 Start with Curb Appeal
Sprucing up your home's curb appeal does not have to be a time-consuming or expensive project. When you bear the fundamentals in mind, sprucing up your home's exterior can be a straightforward and rewarding process that will add to its allure. Start with the most visible things, such as painting your front door, adding new house numbers, and ensuring that your landscaping is properly taken care of. This will provide a well-maintained look that passersby will appreciate. You'll boost your home's "curb factor" and show potential buyers that you take pride in ownership.
Here are a few ideas:
Add some comfortable seating. This could be a bench, rocking chair, or porch swing.
Add plants or flowers. Potted plants or hanging flowers can add some color and life to your porch.
Solar-powered path lights or lanterns can add some ambiance to your home's exterior and make it feel more inviting at night.
Keep the front entrance clean and tidy. Make sure to sweep the porch regularly, clear away clutter, and remove any spider webs.
Paint the front door.
Pressure wash the exterior.
Install new house numbers.
Focus on the Kitchen and Bathrooms
When selling a home, potential buyers tend to be most interested in the kitchen and bathrooms. These are two of the most important rooms in a house and can influence a buyer's decision to purchase. Home sellers should focus their efforts on making sure these areas look up-to-date and cared for. This could include something as simple as replacing any old fixtures or tiling, or something more elaborate such as a full remodel to meet modern standards.
Here are a few home improvements you can make to these rooms to help increase the value of your home:
Update the cabinets: New cabinets can be a major investment, but they can also have a big impact on the look and value of your home. Consider refacing your existing cabinets or replacing them with new ones with a stylish finish.
Install a new countertop: Replacing an outdated or damaged countertop can give your kitchen or bathroom a fresh new look. Consider materials like granite, quartz, or marble for a high-end look.
Add a backsplash: A backsplash is a great way to add some visual interest to your kitchen or bathroom. Choose tiles in a color or pattern that complements your decor.
Replace old fixtures: New faucets, handles, and light fixtures can give your kitchen or bathroom a fresh, modern look. Choose fixtures in a finish that coordinates with your other hardware.
Other Key Improvements
Install new flooring: Old or outdated flooring can make a home feel dated. Consider replacing it with new tile, hardwood, or vinyl flooring in a modern style. If you have hardwood floors, refinishing them can be a cost-effective way to update the look of your home.
Add storage: Extra storage is always a plus. Consider adding a pantry, linen closet, or storage cabinets to help buyers see how functional the interior can be.
Update the paint: New paint can be a simple and affordable way to make your home more attractive to potential buyers. F

resh paint can make a home look clean and well-maintained. Additionally, it can help the home feel more modern and creates a cohesive look throughout the home. Light and neutral paint colors are best because they pair well with a variety of decor styles, help the home feel more spacious, and appeal to a wider range of buyers.
Don't Forget the Hidden Home Improvements
If you're looking to put your house on the market, there are several home improvements to consider that buyers won't see but will still benefit from. While these improvements may not be visible to buyers, they can still have a major impact on the value and functionality of the home. These include such things as:
Adding insulation to your attic, walls, and floors. This can help to improve the energy efficiency of your home, which can save buyers money on heating and cooling costs.

Adding weatherstripping and caulk. Sealing cracks and gaps can prevent drafts, moisture issues, and pest issues, while also improving the energy efficiency of your home.

Perform regular assessments and maintenance on the major home systems. Spending extra care on the HVAC system, roof, plumbing, and electrical in advance can

keep your home in good working order. It also can prevent costly repairs down the line that could turn up during a buyer's inspection.
Overview
It's important to carefully consider the cost and potential return of any home improvement project, as well as the needs and preferences of potential buyers. By focusing on projects that will add the most value to your home and appeal to a wide range of buyers, you can maximize your return on investment and make your home more attractive to potential buyers.