Is It Time to Move Into a Bigger Home in Idaho?
Posted by Brandi Washburn on Tuesday, August 23, 2022 at 3:30 PM
By Brandi Washburn / August 23, 2022
Comment
Are you considering moving to a larger home in Boise, Idaho? How do you know if it is time? In this blog post, we'll discuss all of the reasons why upgrading your living space might just be what you need. Keep reading if you're ready to take the plunge and begin exploring your options for finding a new place in Boise!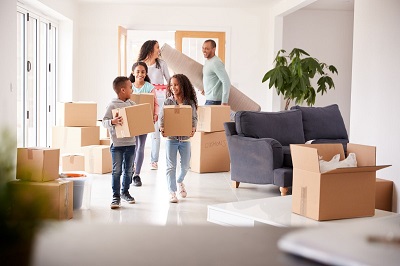 Identify if you are feeling cramped.
If you're feeling cramped in your current home, it may be worth considering purchasing a larger one. This can be indicated by a lack of storage space, insufficient room for furniture, or a feeling of constantly being in close proximity to others in the household. A bigger house can provide more space and alleviate these issues, giving you more room to breathe.
Analyze how much of your square footage is being used for storage.
Buying a bigger home can be a good idea if you find that you are running out of storage space in your current home. Having more square footage can mean having more rooms to use for storage, such as a dedicated storage room or a larger basement. Additionally, a bigger home may also have more closets, which can provide additional storage space for clothing, shoes, and other items. Furthermore, bigger homes may also have more outdoor space, such as a shed or a garage, which can provide additional storage options for outdoor equipment and tools. Overall, having more square footage for storage can give you peace of mind and make it easier to keep your home organized and clutter-free.
Evaluate the amount of time you spend outside the home compared to inside.
Buying a bigger home may be a good idea if you find that you spend a lot of time inside the home. A larger home can provide more space for activities and entertainment, such as a game room, a home theater, or a home gym. Additionally, a bigger home may also have a larger backyard or outdoor living space, which can provide more opportunities for relaxing, and enjoying the outdoors.
However, if you are not home very often and spend most of your time outside, it may not be necessary to buy a bigger home. Instead, you may be able to make do with your current home and find ways to make the most of the space you have. This may involve decluttering or finding ways to make the most of the space you have. Additionally, if you are not home very often, it may not be worth the additional costs associated with buying and maintaining a larger home. In this case, it would be a good idea to consider your lifestyle and assess if a bigger home is really necessary.
Consider if you have enough space to host family and friends comfortably.
Another important factor to consider when thinking about buying a bigger home is whether or not you have enough space to comfortably host family and friends. If you enjoy entertaining or having guests over, a larger home can provide more room for everyone to gather and socialize. This can be especially important if you frequently host large events or gatherings, such as holiday parties or family reunions. Having additional rooms, such as a formal living room, a dining room, or a game room can give your guests a place to relax and enjoy themselves. Additionally, having a larger outdoor space, such as a patio or a deck, can also provide more room for entertaining and hosting guests.
Examine if there's a need for more bedrooms or bathrooms.
Perhaps your needs or lifestyle has changed. Maybe you need an additional bedroom or location for your home office because you have transitioned to working from home. Maybe you have a growing family or frequently have guests staying over, so you need more room to accommodate more people. Having additional bedrooms can provide more privacy and a better night's sleep for everyone while having more bathrooms can reduce morning congestion and improve the overall function of your home. Having additional bedrooms and bathrooms can also increase the overall value of your home, so investing in a larger home could be a smart financial decision.
Determine what type of new home would fit your lifestyle best.
Once you've made the decision to look for a larger home, it's time to start exploring your options! Boise has many different neighborhoods and housing types, so there are plenty of possibilities for finding the perfect upgraded residence for you and your family. Besides keeping in mind the "must-have" home features and the larger square footage, be sure to also consider factors such as nearby attractions, commute times, location to schools, and the home's vicinity to shopping. If you desire a more active lifestyle, you may want to look for a home in a neighborhood with a community pool, walking paths, or a fitness center.
Ready to move?
It's important to note that moving to a bigger home also comes with additional costs such as a mortgage, property taxes, maintenance, and insurance. So evaluate your finances and meet with a mortgage lender to see if you can afford a bigger home before making the decision.
If you have gone through a thorough evaluation of the pros and cons and determined that upgrading to a larger home makes sense for your lifestyle and budget, then it may be time to start the process of finding the right home for you. Our team of professionals at Callison Group Real Estate can assist you through the process. We will work closely with you to understand your needs, preferences, and budget. We will also use our knowledge of the local market and expertise to help you find the perfect home.