Selling a Home to Pay for Senior Living Care
Posted by Brandi Washburn on Monday, December 5, 2022 at 1:25 PM
By Brandi Washburn / December 5, 2022
Comment
Senior Living Options in Idaho
We are professionals when it comes to real estate. So if you need to sell a home for an older adult in your life such as a parent, family member, or friend we can help. However, we know there are so many more decisions that have to be made in the process of transitioning senior citizens from their homes to an assisted care or memory care facility. It may feel like a daunting task, but below are some resources that can help you in that transition.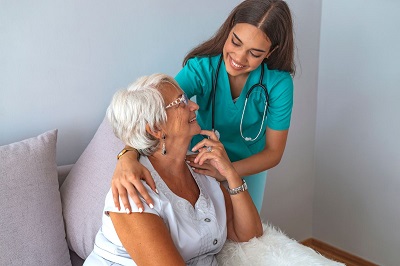 Things to Consider When Selling a House to Pay for Care
1) Timing: Consult with your agent and determine if you need to sell the home before or after moving your loved one into the facility. Selling the home after the move is the most ideal but it does mean you are continuing to accrue maintenance costs and mortgage payments. The benefits of selling after include giving you extended time for packing belongings, making repairs, and staging the home. It also creates much less stress on the senior who may not be able to upkeep the home for showings.
2) Power of Attorney: You may want to consider setting up a power of attorney(POA) with a trusted adult that can make decisions on the senior's behalf. This can be set up so it is limited to the sale of the property or it can encompass more extensive permissions. Consult an attorney to see what best fulfill's your loved one's wishes and situation. We find it helps streamline the selling process when the power of attorney can sign real estate documentation, make decisions on negotiations, and be the liaison for communication on the transaction. This is especially true for seniors who do not feel comfortable with today's technology.
3) Tax Implications: Before making the decision to sell, consult with an accountant to make sure selling the home does not create a tax burden on the senior. An agent can give you a home valuation so you can estimate how much profit they will gain on the sale of their home. If they potentially have to pay for long-term capital gains it may be more beneficial to do a reverse mortgage or rent the home.
4) Liquidation of Assets: Unfortunately, seniors are not able to take all their belongings with them to the care facility. Some guardians choose to handle the liquidation of the personal property themselves but if this seems overwhelming there are other options to consider. Auctioneers and estate sale professionals are great resources to contact to make this process quick and stress-free. Interview several area professionals that specialize in this to find out which one will work best with your senior's financial situation and timeline. Ask if they charge a percentage of the proceeds or a flat fee? How will they market the sale to attract the most buyers? Do they sell the merchandise online, onsite, or take the items to their business site? Are they licensed to sell titled items such as vehicles or RVs?
5) Researching the Options: The information below was provided to us and cited directly from Caring.com. Caring.com is an amazing resource to use if you are looking for care facilities in Idaho. Visit the site for more in-depth information on Medicaid, financial assistance options, Covid-19 safety measures, therapy options, and more!
Types of Senior Care Options
Assisted living is a long-term living option designed for seniors who need some help with activities of daily living (ADLs). Residents of assisted living communities live as independently as they're able, but with the knowledge that helping hands are never too far away.
Nursing homes offer a more intensive level of medical care than any other type of senior living. People living in nursing homes are typically less able to live independently or care for themselves than people who can live in an assisted living facility, and the available services reflect this. But the high-level of care offered at nursing homes is typically more focused on medical care rather than memory care. Those living with memory impairment may not be able to receive the personalized attention and cognitive stimulation that they need in a nursing home setting.
A memory care community is a residential care facility or unit of a residential care facility that is designed specifically to meet the needs of people who have Alzheimer's disease or other dementias. Memory care communities strive to provide residents with a high quality of life while taking additional measures to ensure their safety. There may be security measures in place to ensure that residents do not wander, for example, and some units are locked so that no one may leave or enter.
The Idaho Aged & Disabled Waiver is a home- and community-based Medicaid program that gives seniors an alternative to nursing home care. It's designed to promote freedom and independence while helping older adults live safely in a setting of their choice. Seniors must be disabled or aged 65 or older and require a nursing home level of care to qualify. If you meet these requirements, the program can help with the cost of services provided in a memory care facility and many other supports, including:
Adult day health care
Personal care attendants
Adult residential care
Homemaker services
Chore assistance
Case management
Home modifications
Meal deliveries
Medical products
Emergency alert systems
Non Medical transportation

Memory Care in Idaho
According to the Idaho Department of Health & Welfare, 27,000 older adults in the Gem State have been diagnosed with Alzheimer's disease. By 2025, this number is projected to reach 33,000, an increase of over 20%. Alzheimer's disease is Idaho's sixth leading cause of death. Fortunately, the state offers a number of resources for dementia patients as well as the friends and relatives who care for them.
In 2021, state legislators formed the Alzheimer's Disease and Related Dementias (ADRD) initiative to raise awareness and promote early detection. This program is a joint effort between the Idaho Commission on Aging, the Center for the Study of Aging at Boise State University and national organizations such as AARP. Along with specialized memory care facilities, which cost $4,798 per month, these resources can improve seniors' quality of life and provide a helping hand to family caregivers.
Memory care can either be offered on its own in a community designed especially for those with dementia or Alzheimer's, or, more often, it's provided as a service in a separate wing of an assisted living facility. Memory care programs are designed specifically for those with memory impairment, and the facilities often coordinate social activities and schedules specifically for the needs of those living with Alzheimer's or dementia.
The Cost of Memory Care in Idaho
Using this formula, you can expect to pay approximately $4,798 per month for memory care, which is $827 lower than the national average of $5,625. Fees are lower in neighboring Utah, where the average is $4,375 per month. Prices are moderately higher in Wyoming, at $5,211, and Montana, at $5,563. In the Pacific Northwest, memory care prices average $6,306 in Oregon, and seniors in Washington pay $7,500 per month, a difference of about $2,700.
Memory care prices in Idaho's largest cities range from $4,375 in Idaho Falls to $5,844 in Coeur d'Alene. Rates are lower than average in Boise, at $4,483, and Twin Falls, at $4,775. If you live in Pocatello, you'll pay approximately $5,258 per month, which is higher than the state median but lower than other parts of the country. Memory care prices in Lewiston ($5,524) are $726 higher than the state median but about $100 lower than the national average.