Things to Do in Boise in March
Posted by Brandi Washburn on Wednesday, March 1, 2023 at 8:51 AM
By Brandi Washburn / March 1, 2023
Comment
With the arrival of spring, numerous Boise locals will be eager to engage in outdoor activities and explore new experiences outside of their homes. To provide some inspiration, here are some suggestions of activities to enjoy in March in and around the Boise area.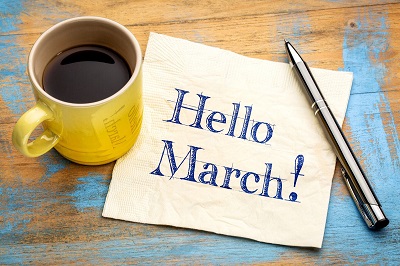 The Idaho Sportsman Show is the ultimate event for outdoor enthusiasts in the Boise area. The show brings together a variety of exhibitors, including guides, outfitters, hunting and fishing gear vendors, RV and boat dealers, and ATV manufacturers. In addition to the exhibits and demonstrations, the Idaho Sportsman Show also hosts informative seminars and workshops on a variety of outdoor topics, such as fly fishing, wildlife management, and hunting strategies. Bring the kids to fish in the trout pond!
The Discovery Center of Idaho is set to launch a special exhibit titled "The Fans Strike Back" on March 6, 2023. The exhibit promises to be an exciting experience for fans of Star Wars of all ages. Visitors can expect to see a wide range of movie memorabilia from this iconic series.
Theater lovers will enjoy this heartfelt and poignant play based on a best-selling book about the experiences of a struggling writer who becomes an advice columnist.
If you are planning to do any interior or landscape upgrades to your home this spring, be sure to stop by the Expo Idaho to attend Idaho's largest annual home show. The 4-day event features over 200 vendors specializing in home improvements, interior design, lawns, and gardens.
Holligan's Pub is hosting a St. Patrick's Day celebration where you can enjoy traditional Irish cuisine and specials on pints of Guinness and Irish whiskey. They also will be featuring music from the Boise Highlanders.
Enjoy some delicious food and live music while benefiting a great cause. All funds raised from the event will go towards the ongoing development of Nampa's Amity Dog Park, as well as the creation of a second dog park in the area.
The annual Treefort Music Fest will take place in Downtown Boise, Idaho again. This five-day festival celebrates a diverse range of music genres and provides attendees with a memorable experience. The festival will feature over 500 bands, musicians, and artists, with a focus on independent and emerging artists. Attendees can expect to see performances ranging from indie rock, electronic, hip-hop, and folk music.
Enjoy this hilarious stand-up comedy routine from Kevin James at the Morrison Center located on the Boise State University campus. This actor and comedian is well known for his roles in popular television shows and movies such as "The King of Queens" and "Grown Ups". With his quick wit and hilarious observations, James is sure to provide a night of entertainment that you won't soon forget.
The Ford Idaho Center is featuring the legendary country music singer, songwriter, and actress Reba McEntire. The concert promises to be an unforgettable experience for fans of country music and McEntire's work.
Help cheer on our local hockey team at the Idaho Central Arena as they compete against the Kansas City Mavericks.
---
These are just a few of the many events happening in the Treasure Valley this month. Boise offers an abundance of opportunities for enjoying live music, shows, and outdoor events during the month of March. So "spring" into action and explore all that Boise has to offer this March!