Tips to Maximize Your Home Sale Price if You Have Pets
Posted by Brandi Washburn on Wednesday, June 8, 2022 at 9:45 AM
By Brandi Washburn / June 8, 2022
Comment
Many pet owners would describe their four-legged friends not only as cute and adorable but also as members of the family. We welcome the puppy or kitten into our home and consider it just as much their home as it is our own. Because we love them, we tolerate their smells and their messes. Even if our pet is mischievous, we tend to overlook any damage they may have done to our home because we enjoy their company. All this is true until it is time to move! Then suddenly we are all too aware of the countless pieces of evidence that our home is shared with pets. So, what do you do to prepare your home for the market when you have animals? Here are a few tips on selling a home with pets.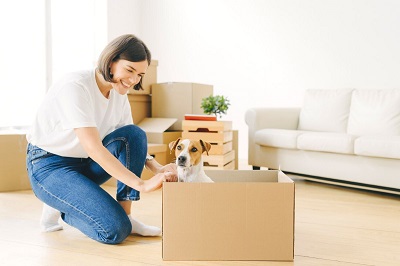 Do a Deep Clean
Floors - Stunning floors can make a home. Hardwood is especially impressive, but it can be the worst for revealing pet hair. Use an electrostatic mop (much like a Swiffer) to pick up pet hair more efficiently than sweeping. Vacuum and mop regularly so that your home is ready to show at a moment's notice.
Upholstery - A tape roller is the easiest way to remove pet hair from your upholstery. Make a thorough pass over your furniture right before a potential buyer comes by for a viewing.
Air Filters - Changing your air filters will help to clear pet hair out of the air and minimize the pet smell.
Outdoors – Do not forget to check the yard for tell-tale signs of pet ownership. A prospective buyer does not want to step into any unexpected surprises left by your furry friends during a home viewing.
Maintaining Carpets
Pet owners have to be extra careful when owning a home, as pets can cause stains that are difficult or impossible to remove from carpets. Regular cleaning and vacuuming are necessary to reduce pet hair and odors, but even with those precautions, it's still possible for pet-related messes to happen. It's important to address these messes quickly in order to prevent the stain from setting in too deeply. There are a variety of methods for removing pet stains from carpets, such as blotting, steam cleaning, and carpet shampooing - each one more effective depending on the severity of the stain.
Cleaning Solution – Martha Stewart recommends using a solution of 1⁄4 tsp clear dish-washing liquid, mixed with one cup of water. Wet a towel or rag in the solution and blot until clean.
Professional Help – For tough stains that you are not able to get out yourself, you may need to call a professional carpet cleaner.
Eliminating Odors
Eliminating pet odors is important when selling a home as potential buyers may be put off by the smell or have allergies to your pets. Besides just addressing this through cleaning and maintaining the carpets, you will also want to consider ways to alleviate or remove any lingering smells. This could mean getting rid of old pet bedding, changing the litter box more frequently, and airing out the home regularly by opening up the windows.
DIY Odor Removal – There are many enzymatic odor removal products on the market. However, you can make your own odor-removal solution by combing a cup of baking soda, 1⁄2 cup of hydrogen peroxide, and a teaspoon of dish detergent.
Persistent Odor – Use a spray bottle to dampen the area with a mixture of 1⁄2 vinegar and 1⁄2 water. Allow it to sit for five minutes and then clean the carpet as best you can. Once you have blotted the carpet dry, sprinkle it with baking soda and let it sit overnight. Then vacuum thoroughly.
Repairs
When selling a home, it is important to view the home from the lens of the prospective buyer. This includes not only removing pet hair and odors but also addressing the potential for any past or present damage to the home due to pet activity. Below are some common areas to pay close attention to:
Door Jams – Scratch marks on door jams can sometimes be repaired with a simple coat of paint. Light sanding may be required, to remove deeper marks before painting.
Replacement Doors - If you have pet access doors installed in your home consider having replacement doors available for the new buyer. Doggy doors can be an efficient way to grant your pets access to certain parts of the home, but they may not work for all buyers. For one, doggy doors may require more of an installation process that some people are not comfortable with. There is also the potential of intruders gaining access to the home through a pet door, which could be a turn-off for many potential buyers. In addition, some pet owners may prefer to have a more secure or enclosed area for their animals.
Floors – Scratches on hardwood floors can be covered with a light coat of appropriately colored furniture polish. Be sure to clean up all excess polish so that the floor will not be slippery.
Walls - Make sure there are no holes or scuff marks from pets.
Landscaping Repair – Fill holes in the yard and repair landscaping damage around the outside of the house. This may mean you will need to put down a fresh coat of mulch and replant flowers that have been dug up. Also, ensure any fences or gates are secure enough to keep pets contained and that there are no gaps where animals could escape.
Staging Tips for Pet Owners
When potential buyers walk in the door, they should be met with a clean and organized living area. Potential buyers who own pets will appreciate that your home is pet-friendly but this could be a deterrent for other buyers. Place pet items, food dishes, and toys out of sight so that the focus is on your home and not on the fact that you own pets. Check for damage from chewing or scratching on your furniture, as this could be another distraction to the buyer. Consider buying furniture covers or steam cleaning your furniture to give the decor a fresh look.
---

Once you have made your home presentable for the agent to show, you will want to keep maintaining it. The easiest way to maintain is to make arrangements for your pet to stay somewhere else during the selling season. Some possibilities include day boarding or keeping them at a friend's house. If that is not an option you can create an area in the home or yard where they will be better contained. You will also want to request buyer agents to give you ample notice for showing requests. This will allow you time to spruce up the home and either put away the animals or take them with you during the showing. What is most important is to remember that the listing period is temporary and your canine and feline companions will soon be accompanying you to your new home!