Top Dog-Friendly Parks in the Boise Area
Posted by Brandi Washburn on Tuesday, August 9, 2022 at 2:18 PM
By Brandi Washburn / August 9, 2022
Comment
For dog owners, nothing brings you more joy than taking your pup outdoors to play. The Boise, Idaho area has several locations perfect for letting your best friend run around and socialize with other furry friends. From off-leash parks and hiking trails, we've got all the information you need for an awesome day of exploring with your furry friend.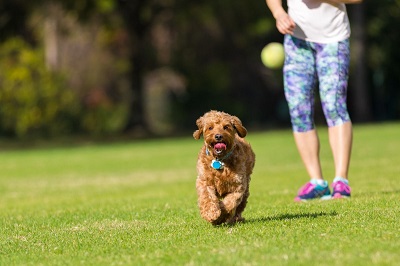 Amity Dog Park
Located in Nampa, Idaho this park presents a great place for you and your pet to enjoy some exercise and a chance to socialize with other pets and owners. Consisting of 6 acres, the park is fenced and is designed with areas specifically meant for both larger dogs as well as smaller breeds and senior canines.
Camel's Back Park
This 11-acre park nestled in Hyde Park in Boise, Idaho features several popular trails to explore with your dog.
Eagle Island State Park
With five miles of walking paths and a special off-leash dog area, this 545-acre state park sits right on the Boise River. It is the perfect setting for enjoying nature with your canine friend.
Manitou Park
During designated hours, 5.1 acres of this park are open and available for all dogs to play off-leash! The dog park area is located on the north side of the park and is a great open place to play catch or frisbee with your pup.
PetIQ Dog Park
This public park located in Eagle, Idaho is open to the public every day from sunrise to sunset. The park features two separate areas for big and small dogs to run and play, as well as drinking fountains for both humans and dogs.
Ridge to River Trail System
The Ridge to River Trail System is an expansive, dog-friendly trail system that spans over 190 miles around the foothills of Boise. Dogs must stay on their leash for the majority of trails, however, there are a select few off-leash paths dedicated just to our furry friends.
Storey Bark Park
This fully-fenced dog park in Meridian, Idaho is a 2.25-acres and features separate large and small dog areas, shade shelters, doggy drinking fountains, mutt mitt stations, and dog-themed street signs.
Table Rock
Table Rock in Boise, Idaho is a popular dog-friendly hiking area offering stunning views of the city and a variety of trails for hikers and their furry companions to explore. Off-leash walks are welcome as long as your dog remains within 30 feet of you and doesn't cause any disturbances to wildlife or become a safety issue for other hikers.
Together Treasure Valley Dog Island
Treasure Valley Dog Island is an all-season park situated in the southwest corner of Ann Morrison Park. The 5.4-acre location includes a "shy dog" area, as well as a tranquil pond for your four-legged friends to splash around in during the hot summer months.
---
As you can see, Boise, Idaho is a great destination for dog owners looking to spend time outdoors with their pets. The city has a wide variety of pet-friendly amenities, including walking trails, off-leash areas, water fountains, and shade rest spots making it easy for both humans and their canine companions to enjoy the great outdoors. Whether you want to take a leisurely walk with your pup or tackle more challenging terrain, there's something in Boise that will suit every dog's adventure level.