Why Move to Boise?
Boise, Idaho has been a popular destination for those looking to relocate for many reasons. Some are motivated by the evolving economy, others by how family-friendly it is. This page will give you an overview of Boise and the other 9 cities that make up the Treasure Valley metro area with information on job opportunities, climate, affordability, education, lifestyle, leisure, and recreation. It will also give you insight into why this area's population has grown by over 175,000 people in the last decade.
If you would like to see our latest relocation magazine please click the picture below: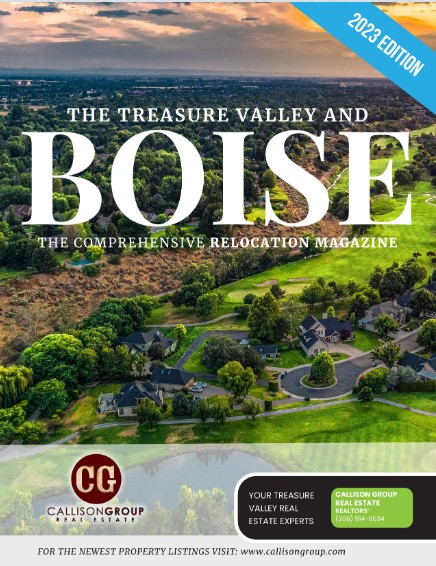 "Best City" Designations
Boise and its surrounding communities are consistently ranking in the Top 10 Best Places for places to work, play, and live based on a variety of factors. Below are some of the recent lists that Boise has been on.
Climate
The weather in Boise consists of a semi-arid continental climate with four distinct seasons. Another driving factor of many people's fascination with this area. Different from many other locations across the US, Boise enjoys the beauty of fall, winter, spring, and summer. With each season bringing its own recreational activities. Boise experiences hot and dry summers, winters are moderately cold, autumn is brief and spring is gradual. Thus, making for an environmental dream for all of our outdoor enthusiasts who have plenty to do and play here in Boise every season.
Commute/Travel Time
One of the great benefits of living in Boise is the quality of life, with a major contributor being traffic and time spent commuting. Although the commute times have increased over the years due to our population growth, compared to other cities our commute times are relatively short. The commute times for most workers (not working from home) during an average work week are between 10 to 25 minutes. A breakdown of mean commute times by county can be found at indexmundi.com.
Economy
Boise is the headquarters for several major companies, which drive a huge part of the city's economy and population. Many transplants come here to work for many of these large employers.
Albertsons
Amazon Fulfillment Center
Blue Cross of Idaho
Bodybuilding.com
Boise Cascade LLC
Clearwater Analytics
Hewlett-Packard
Jacksons
J.R. Simplot
Idaho Pacific Lumber
Idaho Timber
Meta (coming soon)
Norco
Scentsy
St. Luke's Health
Winco Foods
The state government is one of the city's largest employers and the area's largest private, locally-based, publicly-traded employer is Micron Technology. The technology boom has really thrived here in Boise with many high-tech companies creating a huge footprint such as Hewlett Packard, Healthwise, Bodybuilding.com, CradlePoint, MetaGeek, & Sybase. Smaller tech companies have found this a great place to create and invent and test their products in a smaller yet thriving market.
Education
The Treasure Valley has many options when it comes to education. Whether it is for primary, secondary, or higher-level education there are great learning institutions in both the private and public sectors. If you prefer to homeschool, there is also a strong homeschool community that offers resources, advocacy, and support for those who teach from home.
Colleges & Universities:
Sports
Boise, Idaho is a great place for sports enthusiasts to visit. It hosts college teams from Boise State University as well as semi-professional sports teams including the Boise Hawks, a minor-league baseball team affiliated with the Chicago Cubs. In the winter months, you can enjoy an Idaho Steelheads hockey game at the Idaho Central Arena. In the spring, summer, and fall months there are dozens of running marathons both within the cities running routes or just outside the city near Robie Creek and Lucky Peak. The city also plays host to many types of sporting events and tournaments, such as college football bowl games and the Ironman Triathlon series event. With its many recreational activities and entertainment offerings, Boise provides an exciting experience for anyone looking to get their sports fix.
Idaho has a very strong cowboy and rodeo culture. Its oldest rodeo has been running for over 110 years! Throughout the state, you will find rodeo clowns, bucking broncos, barrel racing, bull riding, rodeo princesses, and fun crazy events that the crowd can participate in. From barrel racing to bull riding, rodeo events give spectators a chance to get up close and personal with the action.